Film Cooling Recognized by Vid-Terp 2009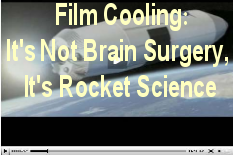 The 2009 Vid/Terp winners were recently announced and the Aerospace Engineering Department was represented by the Film Cooling Research Group. Named after their research interest, the FCRG is composed of four aerospace graduate students: Kiran Dellimore, Daanish Maqbool, Fernando Raffan, and Andrew Voegele. They are coadvised by Dr. Chris Cadou, Dr. Andre Marshall(FPE/AE) and Dr. Arnaud Trouve (FPE/AE). The FCRG earned second place in this campus-wide competition for their entry "Film Cooling: It's Not Brain Surgery, It's Rocket Science!" submitted by Raffan and Voegele. The video discusses a thermal protection technique used by NASA for rocket vehicles and components such as the J-2X engine for future lunar missions. The FCRG is conducting their research under NASA-CUIP sponsorship and utilized the Vid/Terp competition to share their methods and findings.
Now in its third year, Vid/Terp is a campus-wide video competition hosted by the Office of University Communications. The competition offers undergraduate and graduate students a chance to win prizes for making a three-minute video highlighting an area of study or research or interesting, exciting or impactful aspects of life at Maryland.
In addition to award-winning videos, Film Cooling Research Group has also participated in events and been recognized with several honors including:
Andrew Voegele receiving a 2008 NASA GSRP fellowship, which was renewed in 2009. Under this program, Andrew will work with NASA engineers at NASA Marshall Space Flight Center on the development of the J2-X engine during the summer.
Daanish Maqbool obtaining the Minta Martin Fellowship upon his entry into the aerospace graduate program in 2008.
Three way tie First Place in the November 2008 AIAA Region I YPSE conference between fellow aerospace department students Fernando Raffan, Supratik Datta and Ben Woods.
Fernando Raffan receiving a 2009 College of Engineering's Future Faculty Fellowship. Under this program, Fernando will participate in three seminars and two practicums aimed at preparing him for a successful faculty career upon graduation.
Fernando Raffan and Andrew Voegele obtaining 2nd Place in the 2009 Vid/Terp video competition.
Fernando Raffan and Andrew Voegele obtaining 1st Place in the 2009 Engineering Sustainability video competition; Kiran Dellimore obtaining 3rd place after a close vote in the same competition.
See Film Cooling's award winning video.
Visit the Film Cooling website: www.filmcooling.umd.edu
Contributed by Fernando Raffan
additional sources: http://www.newsdesk.umd.edu/vidterp/webcopy/Winners2009.cfm
Published May 27, 2009