Past Scholarship Winners: Undergraduate
American Business Women's Association Legacy Scholarship

The Legacy Scholarship is a national scholarship and is awarded in honor of ABWA member Freda Zimmerman. The scholarship includes a $5000 award and is given through the Stephen Bufton Memorial Education Fund established to assist women in achieving success through educational opportunities.
Gladys Palacio - Spring 2013
Palacio is a sophomore in the space track of aerospace engineering. During her freshman year, she participated in the High Altitude Balloon Payload Project with Dr. Mary Bowden in the Space Systems Laboratory. Over the summer, Palacio was a program coordinator and teacher for the Engineering Science and Technology to Energize and Expand Young Minds (ESTEEM/SER-Quest) program run by the Center of Minorities in Science and Engineering, and this fall, she will be working as a Clark School Ambassador to talk to prospective high school students about the engineering field. Palacio is also the Junior Chair for the Society of Hispanic Professional Engineers (SHPE) and a part of the Flexus: Women in Engineering Living and Learning Community.
---
ARCS Scholar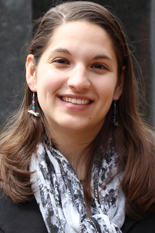 Bernadette Cannon - Spring 2014
Cannon is a senior currently working under the advisement of Associate Professor Raymond Sedwick. She is interested in the area of spacecraft propulsion and orbital debris and is studying how to deorbit space debris through laser ablation techniques that could create a desired trajectory. She aims to work in the spaceflight industry furthering technology, knowledge and exploration.
Teddy Levine - Spring 2013
Edward (Teddy) Levine is a senior Aerospace Engineering honors student minoring in Physics. He is a member of AIAA and the Tau Beta Pi professional engineering society. He is also a Clark School of Engineering Ambassador who educates prospective high school students about engineering. Teddy will be working with Dr. Cadou and NASA researching the use of a focused Schlieren system to measure film cooling properties in supersonic flow.
---
Barry M. Goldwater Scholarship

The Goldwater Scholarship is the premier national award granted to undergraduate students majoring in mathematics, natural sciences and engineering who are interested in research careers. Created by the U.S. Congress in 1986 to honor Senator Barry M. Goldwater, Goldwater Scholarships are designed to ensure the nation has a source of highly qualified scholars and researchers. Recipients are chosen based on academic merit, research experience and career objectives.
Alexander Leishman - 2010-2011
Leishman is a University Honors student in the aeronautics track and has maintained a 4.0 GPA. He worked for Prof. Derek Paley in the Collective Dynamics and Controls Laboratory on an Unmanned Underwater Vehicle testbed and is currently working for both Prof. Paley and Prof. Alison Flatau on a smart material tactile and flow sensor. He has worked in Peru as a member of Engineers Without Borders and currently serves as its fundraising coordinator. Leishman plans to earn a Ph.D. in aerospace, mechanical, or ocean engineering. His goal is to help advance the mechanical, sensing and systems design of submerged vehicles, through research in order to enhance our ability to explore and monitor bodies of water for scientific research.
---
John Anderson Scholars

Leah Krombach - Spring 2012
Leah's scholarly paper highlighted the importance of her research project titled Design of a 3D Helmet-mounted Heads-up Display for Space Exploration. Leah expressed the need to better equip astronauts with improved technologies which can enhance responsiveness and efficiency during extra vehicular activities. By creating an integrative 3D visual interface projected on to an astronaut's visor, Leah hopes to open the door toward new innovation in integrative visor display technology. Impressed by her scholarly paper and research, the Anderson Scholarship Committee awarded Leah the $3,000 prize and plaque.
More past winners:
---
Mtech ASPIRE Awards

The ASPIRE program, created by the Maryland Technology Enterprise Institute (Mtech), introduces undergraduates to the discipline and rewards of industrially-oriented engineering projects. Students perform research during the Fall and/or Spring semesters under the guidance of an engineering faculty or staff mentor. ASPIRE awardees receive a scholarship of $1,000 for each semester project.
Awardees must produce and submit a project report, approved by the mentor, at the end of each semester or summer project. In addition, ASPIRE scholars are encouraged to present a poster on their project at the campus Undergraduate Research Day held each April.
Gerald Andrews- Fall 2014
Gerald (Jerry) Andrews is a Junior in Aerospace Engineering with a concentration in aeronautics. During the Fall 2014 semester, as part of his research for the aerospace honors program, he worked for Dr. Chopra to develop a 50-gram meso-cyclocopter MAV, the smallest cyclocopter ever flown. He is continuing this research, doing a study of the flight characteristics of this vehicle. Jerry is also active with the Catholic Student Center, and enjoys playing sports and rock climbing.
Gary Wolfe - Fall 2014
Gary Wolfe is a senior who plans to continue onto graduate school here at the University of Maryland under the advisement of Dr. Wereley. Gary's research will structural mechanics and composites, particularly morphing-wing aircraft. Originally from southern Delaware, Gary grew up near Dover Air Force Base where he enjoyed watching C-5's takeoff and land. When he came to Maryland he joined the Terps Racing Team and participated for three years.
David Hairumian - Fall 2014
---
National Institute of Standards and Technology (NIST)
Undergraduate Research Fellowship Program

NIST Fellows must be students who are undergraduates at a U.S. university or college with a scientific major, have a G.P.A. of 3.0/4.0 or better (recommended), and are considering pursuing a graduate degree (M.S. or Ph.D.). Students with physics, material science, chemistry, applied mathematics, computer science, or engineering majors are always encouraged to apply. There may be research opportunities for students with other majors. Website
Justin Clagg - Spring 2013
Justin Clagg is a junior studying Aerospace Engineering at the University of Maryland, and plans to pursue a master's degree. He worked for Prof. Paley in the Collective Dynamics and Controls Laboratory on an unmanned underwater vehicle. He also assisted Dr. Petek in programming instruments using Labview. Justin's main goal is to continue gaining research experience in a variety of scientific fields, making the NIST SURF program a great opportunity.
Kevin Chuang - Spring 2013
Kevin Chuang is a junior double majoring in Aerospace Engineering and Physics at the University of Maryland, College Park. Upon acceptance into the 2013 NIST SURF fellowship program, he has been engaged in a sustainable energy modeling project that focuses on industry manufacturing and assembly processes. In addition to studying required coursework, he also takes great interest in a variety of cutting-edge technologies, regardless of its relation to his immediate studies. Graduate school is an option for him, though potential entrepreneurial ventures are also in the works.
---
National Science Foundation Graduate Research Fellowship

The NSF Graduate Research Fellowship Program (GRFP) recognizes and supports outstanding graduate students in NSF-supported science, technology, engineering, and mathematics disciplines who are pursuing research-based master's and doctoral degrees at accredited United States institutions. As the oldest graduate fellowship of its kind, the GRFP has a long history of selecting recipients who achieve high levels of success in their future academic and professional careers.
National Science Foundation Fellows benefit from a three-year annual stipend of $30,000 along with a $10,500 cost of education allowance for tuition and fees, opportunities for international research and professional development, and the freedom to conduct their own research at any accredited U.S. institution of graduate education they choose. Learn more about the program here.
Sylvie DeLaHunt - Spring 2014
Sylvie DeLaHunt was a member of the Aerospace Engineering Departmental Honors Program and the University Honors Program. She studied abroad in Toulouse, France, as part of her International Engineering minor. As an undergraduate research assistant, she coordinated pilot selection and testing for UMD's Human-Powered Helicopter Team. She received a Maryland Summer Scholarship to develop a drop test stand to conduct impact testing in the Composites Research Laboratory with Dr. Norman Wereley. On campus, she is a member Omicron Delta Kappa and Tau Beta Pi, the national leadership and engineering honors societies, plays intramural soccer, and was actively involved in the Honors College. She is currently in the M.S. program for aerospace engineering here at Maryland.
Cody Karcher – Spring 2014
Cody Karcher has worked at NASA's Armstrong (formerly Dryden) Flight Research Center, contributed to the success of Team Gamera under Dr. Inderjit Chopra, and worked in the Collective Dynamics and Control Lab with Dr. Derek Paley. His research has included bio-inspired drag reduction, composite structures, stability and control, and underwater vehicle construction. He has previously been recognized as a Hertz Finalist, an NDSEG awardee, an AHS VFF Scholar, and a NASA Aeronautics Scholar. Cody graduated in spring 2014 and went on to attend MIT fall 2014 to pursue a Ph.D. in aircraft design and performance optimization.
Past winners:
---
L-3 Communications Corporation and Corporate Sponsors Scholarships

L-3 Communications is a prime contractor in Command, Control and Communications, Intelligence, Surveillance and Reconnaissance (C³ISR), Government Services, Aircraft Modernization and Maintenance (AM&M) and has the broadest base of Electronic Systems in the industry. L-3 is also a major provider of homeland defense products and services for a variety of emerging markets. They provide eight undergraduate merit-based half scholarships (based on in-state tuition and mandatory fees; approximately $4,250 per academic year).
Elena Shrestha - L-3 Communications Corporation Scholarship, Fall 2011
Elena was awarded the L-3 Communications Undergraduate Scholarship for both 2010-2011 and 2011-2012 school years. As an Undergraduate Research Assistant at the Alfred Gessow Rotorcraft Center (AGRC) under the supervision of Dr. Inderjit Chopra, she has participated in numerous student conferences. Recently, she placed 1st in the Undergraduate category at the AIAA Region I-MA Student Conference and will be competing at the upcoming AIAA Aerospace Sciences Meeting. Currently, Elena is doing an internship at Sikorsky Aircraft in the Advanced Concepts Department. However, she has been accepted into the University of Maryland Aerospace Engineering Graduate Department and will be back at AGRC as a Graduate Research Assistant.
More past winners:
Harrison Chau - Spring 2011
---
NASA Aeronautics Scholarships

The NASA Aeronautics Scholarship is designed to aid undergraduate and graduate students enrolled in fields of study related to aeronautics and aviation. Awards include $15,000 for each school year, to be used for educational related expenses, a $10,000 paid Summer internship at a NASA Research Center, with a maximum of 2 years of support.
Cory Frontin - 2012-2013 academic year
Cory Frontin is a member of the Aerospace Honors Program. He works with Dr. Derek Paley in the Collective Dynamics and Control Lab conducting research on collective autonomous vehicle systems. He will be interning with the SI organization during the summer of 2012 and will be a teaching fellow for ENES100 in the fall of 2012. Cory is also a member of the Catholic Student Association and a student leader with the Fellowship Of Catholic University Students (FOCUS).
Cody Karcher - 2012-2013 academic year
Cody Karcher is a Banneker/Key Scholar and a student in the University Honor Program. He is a member of the Gamera Human Powered Helicopter Team and works on the design and construction of the cockpit, flywheel, and transmission. He works with Dr. Paley in the Collective Dynamics and Controls Laboratory studying the design and control of small underwater vehicles. Cody also plays trumpet in the University Band and is an Eagle Scout.
Nelson Yanes - 2012-2013 academic year
Nelson Yanes is a member of the University Honors Program and the Society of Hispanic Professional Engineers. He performed research on sunspot activity in the Department of Atmospheric and Oceanic Sciences in 2010. Nelson is currently working with Dr. Christopher Cadou in the Propulsion Laboratory conducting research on the performance of experimental HCRI diesel engines. Nelson also works as a tutor counselor in Pre-College Programs, mentoring and teaching students from high schools around the area.
---
National Defense Science and Engineering Graduate (NDSEG) Fellowship

The National Defense Science and Engineering Graduate (NDSEG) Fellowship is a highly competitive, portable fellowship that is awarded to U.S. citizens and nationals who intend to pursue a doctoral degree in one of fifteen supported disciplines. NDSEG confers high honors upon its recipients, and allows them to attend whichever U.S. institution they choose. NDSEG Fellowships last for three years and pay for full tuition and all mandatory fees, a monthly stipend, and up to $1,000 a year in medical insurance.
Patrick Washington - 2017
Patrick Washington was a senior in the Aerospace Engineering department and part of the aerospace honors program. His undergraduate research was on soft robotics in both the CDCL with Dr. Paley and the CORE Lab with Dr. Wereley. Next year, he is attending Stanford University in the Aeronautics & Astronautics department in pursuit of a PhD. Outside of academics, he was the Secretary of the UMD student chapter of AIAA and the Vice President of Sigma Gamma Tau, the aerospace engineering honor society. He was also a member of the Maryland Beta chapter of Tau Beta Pi and played club baseball.
Shirley C. Sorenson Academic Excellence Award

Named in honor of the long-time executive secretary of Phi Kappa Phi Chapter 22 and faculty member of the university's mathematics department, Shirley C. Sorensen, this award consists of a $1,000 scholarship presented annually by the Phi Kappa Phi honor society. Selection is based on academic excellence as demonstrated by outstanding grades, academic honors and recognition, and activities in the University or in the Community.
Matthew Marcus - Fall 2011
Matt will be a senior Aerospace engineering major in Fall 2012. He is a member of the Aerospace Engineering honors program, and is currently conducting departmental research with Dr. Raymond Sedwick pertaining to wireless power transfer using superconducting resonantly coupled coils, and plans to continue this research for his masters thesis. Matt also works part time at the NASA Goddard Space Flight Center with the Satellite Servicing Capabilities Office. He is a member of Tau Beta Pi, and President of the UMD chapter of Sigma Gamma Tau. Matt was also the recipient of the AIAA Junior Foundation Scholarship for the 2011-2012 academic year, and the AIAA Space Transportation Technical Committee Scholarship for the 2012-2013 academic year. Matt plans to earn a PhD in Aerospace Engineering and work with deep space robotics and satellite servicing systems.
---
Sikorsky Corporate Scholarship and Sikorsky Corporate Partner Scholarship

Joshua Eisdorfer - Sikorsky Corporate Partner Scholarship, Fall 2015
Joshua Chaim Eisdorfer is a junior majoring in Aerospace Engineering. He was awarded the President's Scholarship, and recently received his citation from the Entrepreneurship and Innovation Honors program. In the summer of 2015, he spent the summer as a research fellow at the National Institute of Standards and Technology, researching grapehene and hyperspectral image analysis. He is a member of Lumberjacks, Landscapers, and Landgineers, and is active in the Jewish community at Maryland. Upon graduation, he plans to work in industry and then go on o get a Masters in Systems Engineering.
William Dean - Sikorsky Corporate Partner Scholarship, Fall 2011
During his junior year, William interned at AEDC Hypervelocity Wind Tunnel 9 and plan to continued working there as a co-op as a senior. Post-graduation, William continued his studies as a graduate student.
Jennifer King - Sikorsky Corporate Scholarship, Fall 2011
Jen is a junior aerospace engineering major and computer science minor. She is the current president of the University of Maryland club running team, Terp Runners. During the semester, she works as a Math Success Coach. Jen also volunteers at various engineering events through FLEXUS, the Women in Engineering Living and Learning Community. Upon graduation, she plans to earn a Master's degree and pursue a career in avionics.
Jaclyn Rupert - Sikorsky Corporate Partner Scholarship, Fall 2011
Jaclyn Rupert has completed three semesters in the Aerospace Engineering program at the University of Maryland. She was awarded the Sikorsky Corporate Partner Scholarship for the 2011-12 academic year. While Jaclyn has always been interested in spacecraft and rockets, she expanded her passion to helicopters as well during the spring and summer of her sophomore year in 2012, when she completed a co-op with Sikorsky Aircraft Corporation in Stratford, CT. While at Sikorsky, she worked in the Program Management Department under the chief engineer of the CH-53K Heavy Lift Replacement Helicopter for the U.S. Marines. At Maryland, she is a member of University Honors, the American Association of Aeronautics and Astronautics, and Club Fencing. Jaclyn also is a sister of Alpha Omega Epsilon engineering sorority.
---
Vertical Flight Foundation Scholarship

The Vertical Flight Foundation was established in 1967 as the philanthropic arm of the American Helicopter Society. In 1977, the Foundation established a scholarship program for promising undergraduate and graduate students who plan to pursue careers in vertical flight.
Andrew Mills – Spring 2014
Andrew Mills is a senior Aerospace Engineering Honors student. He is a member of Tau Beta Pi, the Engineering Honors Society, Theta Tau, and he is an AIAA senior liaison.
Cody Karcher - Fall 2013
---
WIA Foundation—AIAA Digital Avionics Scholarship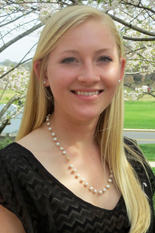 Lauren Trollinger – Spring 2014
Trollinger is very involved at the Clark School. She serves as president of the AIAA student chapter and is an active member of the engineering sorority Alpha Omega Epsilon. Trollinger, who is also pursuing a minor in Project Management, works with Dr. Alison Flatau, a WIA award winner herself (2010 Aerospace Educator Award), in the Flow Visualization Laboratory. She works on researching the drag-reducing effects of synthetic jet actuators, and hopes to apply her research to rotorcraft aerodynamics in graduate school.